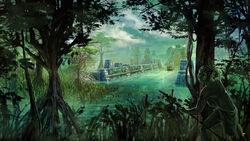 Kartu is one of three kingdoms in Kartuga. It derives its visual style from Mayan culture. Lush jungles, volcanoes and monstrous temple cities dominate the area. Your enemies use small coves and muddy rivers for sudden ambushes. Remember to keep your eyes wide open if you don't want to end up on the bottom of the emerald seas.
Ad blocker interference detected!
Wikia is a free-to-use site that makes money from advertising. We have a modified experience for viewers using ad blockers

Wikia is not accessible if you've made further modifications. Remove the custom ad blocker rule(s) and the page will load as expected.